When Should I Get Body Contouring After Major Weight Loss?
Posted July 13, 2021 in Body Contouring, Post-Weight Loss Plastic Surgery
2 Minute Read: 
Congratulations on losing weight! 
You should feel proud of yourself. However, you might have some annoying loose skin left behind, which is bothersome and may be causing hygiene issues. Fortunately, this can be fixed.
Let's explore this in more detail to determine when is the right time to consider body contouring procedures.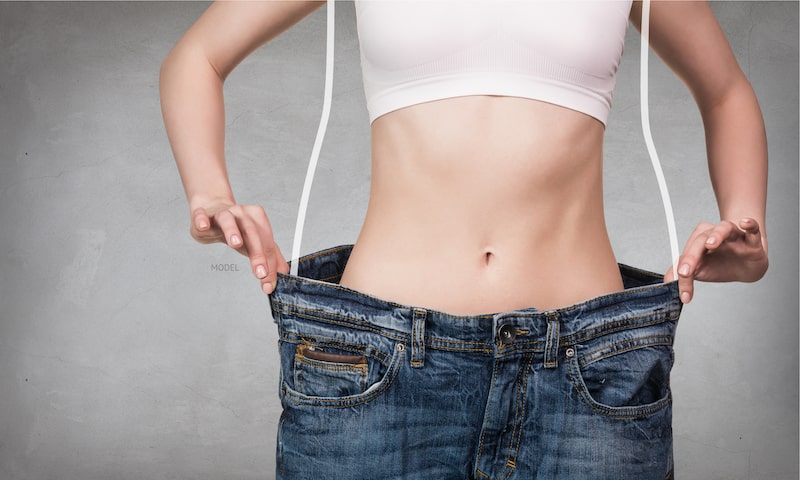 Are You Maintaining Your New Weight?
If you have lost a lot of weight and are still not happy with how your body looks, then it might be a case of too much excess skin distorting your new body. 
Don't let the skin defeat you and make you feel like you are not good enough. You accomplished something great, and it was no doubt challenging and time-intensive. You deserve to show off the body you worked so hard to achieve. 
Your scale and measurements will show the effort you have put in, but you need to make sure that you can maintain your weight-loss results. A maintenance period is required before you decide to go ahead with body contouring. 
If you are not at a stable weight, and you put on weight again, this will negate the effects of the surgery.
Have You Undergone Weight-Loss Surgery?
In this instance, the dramatic effect of suddenly losing a large amount of weight can leave your body looking misshapen due to the extra skin left behind. Unfortunately, people do not always realize the probability of this skin when they have bariatric surgery — many men and women experience sagging skin on the neck, thighs, abdomen, arms, and even the face. 
If you are in good health and consistent with the post-surgery health regimen, you are a candidate for post-weight loss body contouring. This will be the final step towards revealing your new body.
What Else Do You Need to Know?
Most importantly, you need to be in a stable frame of mind before you undergo surgical body contouring. 
Remember that this is not a method to lose weight and should not be used to maintain your weight. You need to be healthy and ensure that your weight is not fluctuating. 
Stubborn fat can be removed with body contouring procedures, such as liposuction, if weight loss has been maintained with no further results.
What
Body Contouring Options
Are There?
Patients experience excess skin in various areas post-weight loss. Common areas for this laxity include the abdomen, thighs, breasts, arms, and face.
Therefore, a collection of plastic surgery procedures may be recommended, including:
These surgeries have all been shown to improve the results of major weight loss surgery. 
Interested in Learning More About Post-Weight Loss Body Contouring.
To learn more about plastic surgery procedures offered by Dr. Mark Chin at the Valley Institute of Plastic Surgery, fill out our contact form or call (559) 435 9646.