It is normal for the human body to store a moderate amount of fat in the abdominal area. Unfortunately for many men and women, the waistline can develop excess fat that bulges and causes discomfort and dissatisfaction with your appearance.
For those who have been pregnant or lost a massive amount of weight, the midsection may also have sagging skin and stretch marks. Another issue is that the stomach muscles may become loose and flaccid, unable to engage and keep your core tight and firm.
Tummy tuck surgery, also called abdominoplasty, addresses all of these issues by tightening weak muscles (internal corset), removing excess fat, and trimming away excess skin to create a firmer, flatter, and tighter abdomen.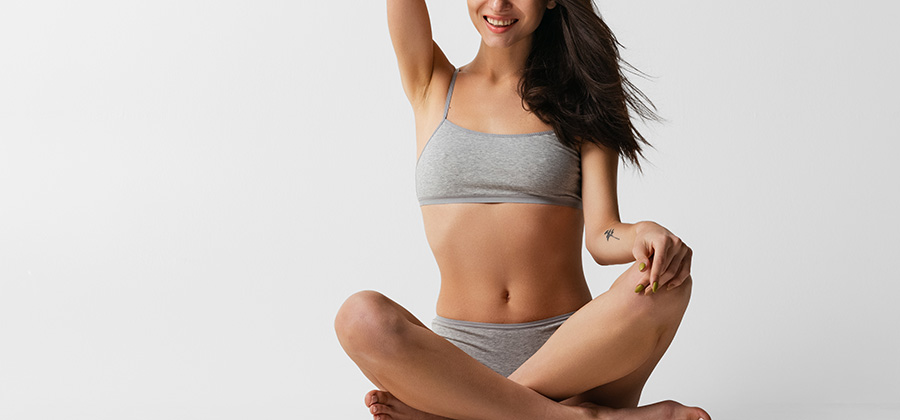 Model
What Is Achieved With

Tummy Tuck Surgery?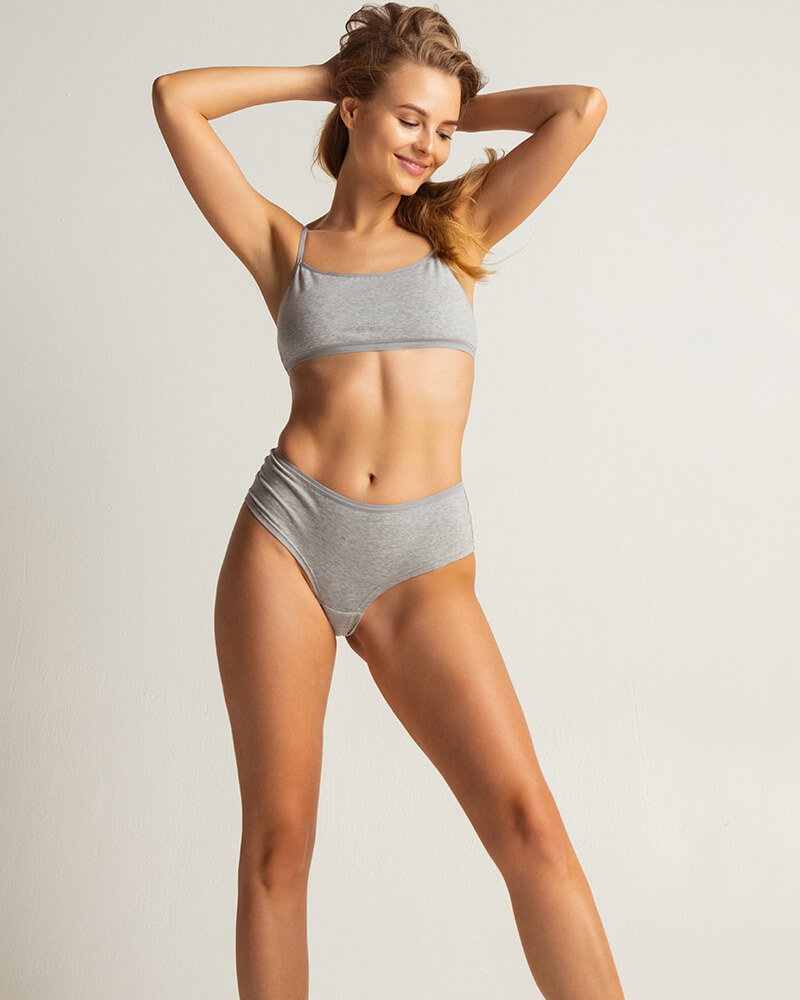 Model
Reshaped Abdomen
When excess fat accumulates around the stomach, your abdomen may develop bulges and rolls that overlap your pants or show through your clothing. Tummy tuck surgery reshapes your abdomen so that the rolls and bulges are smoothed out and replaced by a toned, firm, and flat waistline.
A Natural Look
With tummy tuck surgery, Dr. Chin recreates the appearance of a naturally firm and flat stomach. Tightening the abdominal wall forces the muscles to re-engage and create a firmer midsection. Elimination of excess fat and removal of sagging skin creates the smooth and natural look reminiscent of a body that was never pregnant or overweight.
Health Benefits
A tummy tuck has health benefits in addition to cosmetic benefits. While the procedure's primary purpose is to improve your appearance, removing excess stomach fat and skin is expected to improve your comfort, self-esteem, and hygiene. Additionally, tightening the stomach muscles may lead to improved posture and back discomfort.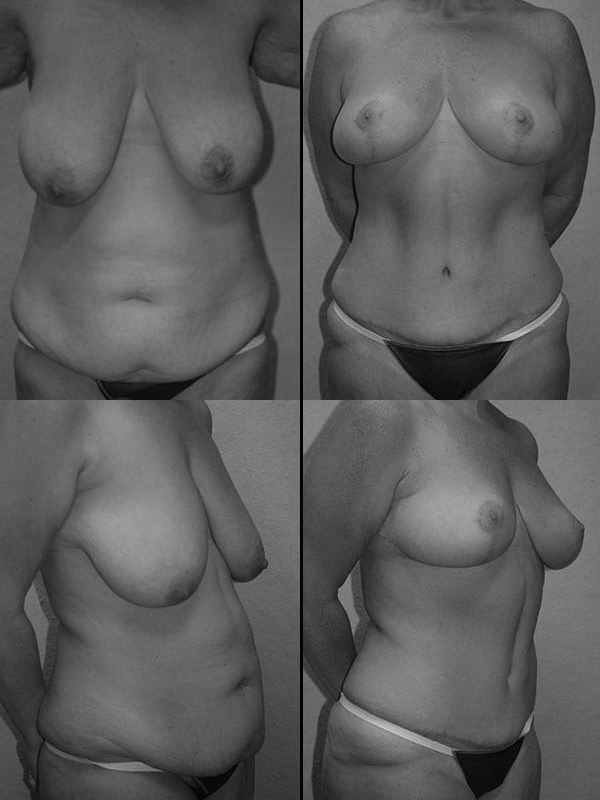 ---
Cosmetic and Reconstructive Procedures
Photo Gallery
Dr. Chin strives to enhance patients' natural beauty while preserving their unique ethnic characteristics and deliver outstanding patient care with patient safety as a priority.
View Photo Gallery
---
Dr. Chin can perform either a mini, modified, or full tummy tuck.
A mini tummy tuck primarily removes the loose skin in the lower abdomen through a low horizontal incision.
In a modified tummy tuck, more excess skin and fat is removed, and the lower abdominal muscles are tightened.
In a full tummy tuck (full abdominoplasty), an additional circular incision is made around the navel.
Regardless of the type of abdominoplasty chosen, Dr. Chin will:
Remove excess fat
Tighten the stomach muscles above and below the navel
Trim away any excess skin from the navel to the pubic area
Create a new navel shape in its appropriate location
Frequently Asked Questions About

Tummy Tuck Surgery
Am I a candidate for tummy tuck surgery?
Ideal candidates for tummy tuck surgery have realistic expectations, are in good physical health, and are at or near their ideal body weight. You should also be a non-smoker and have no plans to become pregnant in the future. The best candidates for abdominoplasty have excess stomach fat, loose skin, and weak abdominal muscles to correct with tummy tuck surgery.
How do I know whether I should get a tummy tuck or liposuction?
Patients looking to undergo body contouring surgery are often unaware of which procedures will benefit them the most.
Liposuction does not affect the stomach muscles or skin, which makes it ideal for patients who only need fat removal to improve their waistlines. Tummy tuck surgery is better for those who have unwanted stomach fat that is accompanied by loose stomach muscles and sagging skin.
With liposuction alone, loose abdominal muscles can still protrude, and the skin may not contract sufficiently and appear wrinkled or irregular especially in a sitting position.
What is recovery like after tummy tuck surgery?
You will need to arrange for someone to drive you home after your tummy tuck procedure and stay to assist you for one to two days. Expect some swelling, bruising, fatigue, and soreness during the first week of your tummy tuck recovery. These symptoms will subside over two to four weeks.
Dr. Chin will prescribe you with oral medications to relieve any pain and to help your body heal. If a drain is used, it is usually removed after one week.
Most patients will feel ready to return to work after 10 to 14 days. Before this point, rest often, go on short walks to promote circulation, and wear your compression garments as instructed. Your tummy tuck recovery time will vary depending on the extent of your procedure. Patients should avoid strenuous exercise for six weeks.
Will there be pain after my tummy tuck?
Some degree of pain and swelling can be expected after tummy tuck surgery. Pain medications will provide relief during the first few weeks, after which point you should no longer need them.
How much scarring should I expect?
Wherever a surgical incision is placed, you will have a scar. Incisions are placed as inconspicuously as possible to minimize scarring. Your tummy tuck scars can be hidden by most underwear and swimsuits. All scars will fade over time and will fade faster with proper care.
Can I have children after a tummy tuck?
Patients can become pregnant after having a tummy tuck, but pregnancy will likely reverse the positive results of the tummy tuck. It is best to wait until after you have had all the children you desire before you undergo tummy tuck surgery.
How long will my Fresno tummy tuck results last?
Results from tummy tuck surgery can last for many years if patients maintain a stable weight. A healthy diet and lifestyle can help preserve your results for decades to come.
How much does tummy tuck cost in Fresno?
The cost of tummy tuck surgery will vary depending on the technique chosen and the degree of correction required. Dr. Chin will provide you with a personalized tummy tuck price during your consultation.
Your abdominoplasty cost will also vary depending on whether you undergo combination plastic surgery procedures. Many tummy tuck patients choose to combine their tummy tuck with liposuction or a Mommy Makeover, combining breast enhancement with body contouring.