Liposuction
What Is Liposuction?
Excess fat in multiple areas of the body is a nuisance for the majority of men and women. Curves and bulges in the wrong places can lead to discomfort in clothing and dissatisfaction with the way you look. Dieting and exercise can help, but some fatty deposits are nearly impossible to minimize without surgical intervention. These areas are called "resistant areas of fat" and don't respond to conventional ways of weight loss. Liposuction is a cosmetic procedure that involves a few tiny incisions in an excessively fatty area of the body. A thin, hollow tube removes the excess fat by way of vacuum suction and allows Dr. Chin to sculpt the area into smoother, more slender and defined contours. Dr. Chin may use a variety of different techniques to optimize the removal of fat, minimize contour irregularities, and redrape or tighten the skin to minimize skin laxity. Dr. Chin may also use Smartlipo™ (laser-assisted lipolysis) to help melt the fat prior to liposuction or use power-assisted liposuction (PAL) using a reciprocating device to break up the fat as he aspirates it. Dr. Chin has found that using this SAFE (separation, aspiration, fat equalization) technique is valuable for ensuring a smooth and even contour.
The Benefits of Liposuction
Less fat in the most common trouble zones
Increased confidence in your own skin
Broader range of clothing choices
Improvement in the contours of the body
May be transferred and grafted to other parts of the body, such as the buttocks, to achieve a more curvier waistline and derriere
Achieved With Liposuction
Dr. Chin can achieve the most natural look with liposuction because of the nature of the procedure. As he moves the cannula back and forth beneath the surface of the skin, he is able to use his artistic ability to sculpt the body into a more flattering shape. He can correct any asymmetry and leave the skin looking as smooth and as firm as nature intended.
The abdomen is the most common area of the body treated with liposuction. Women especially have an issue with fat in the lower abdomen and can often fit into their pre-pregnancy jeans or "skinny jeans" just by reducing fat this area. Less fat in the abdomen can also provide the hourglass figure most women desire.
Liposuction is one of the most versatile procedures because it can be performed on most areas of the body. The most popular areas include the arms, back, abdomen, hips, thighs, flanks, and buttocks. Several areas can be addressed in one procedure, which will save both money and time when compared to getting one area treated at a time.
After liposuction, patients who once felt self-conscious about their stubborn fat can now show off their previously troublesome areas with confidence. Clothing fits better, their body feels and looks leaner, and their overall quality of life is improved.
Liposuction Procedure
Only small incisions are needed in the area the patient wishes to address.
As Dr. Chin gently moves the cannula into one incision at a time, the fat is destroyed and suctioned away. This basic process can be performed in a few different ways, including the super-wet technique, the tumescent technique, the laser-assisted lipolysis (Smartlipo™) technique, and the power-assisted liposuction (PAL) technique. All procedures are performed on an outpatient basis and are commonly performed under general anesthesia. Other anesthesia options include intravenous sedation and local anesthesia. All of your options will be discussed in greater detail during your consultation with Dr. Chin.
Before & After Photos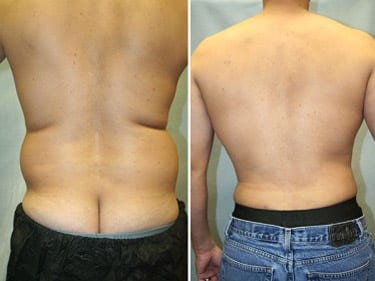 Schedule a Consultation With Dr. Chin