VECTRA® XT For Improved Results
Posted April 13, 2016 in Breast Augmentation, VECTRA® XT 3D Imaging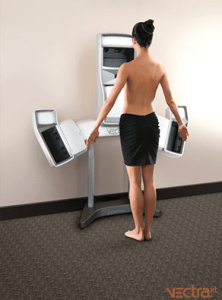 A common fear among plastic surgery patients is that their results won't turn out how they envisioned. It can be difficult to accurately explain your exact wants and needs, especially if you aren't sure what they are yourself. Dr. Chin uses VECTRA® XT 3D imaging during his plastic surgery consultations to help his patients see their potential results before they undergo surgery by simulating the changes anticipated from surgery on the patient's own body.
What Is VECTRA® XT?
VECTRA® XT is a three-dimensional digital imaging system that uses real-life photos to create a composite image on the computer. The software allows Dr. Chin to manipulate the image to showcase the subtle differences and changes that may occur during your procedure.
When Is VECTRA® XT Used?
Digital imaging is most useful for helping patients view their possible breast augmentation and facial plastic surgery results. Dr. Chin uses this advanced technology during his patient consultations.
Results Viewable For Breast Augmentation
Variation of implant sizes

Placement of implants

Different breast projections

With or without a breast lift

Different shapes of silicone or saline implants

With and without a bikini

Preexisting asymmetry
Results Viewable For Facial Plastic Surgery
Extent of facelift correction

Projected brow lift results

Rhinoplasty results for correction of

Humps

Bridge width

Length

Nasal tip size and shape

Chin Augmentation results

Liposuction of the neck and under the chin

Complexion analysis of brown hyperpigmentation and redness

Preexisting asymmetry and contours of the face
Benefits of VECTRA® XT
Utilizing VECTRA® XT 3D imaging during your consultation helps you better communicate your desires with your surgeon. This technology provides you and your doctor with a clearer idea of the results you can achieve from your plastic surgery procedure. Patients often feel more comfortable and confident having a better understanding of their anticipated results before undergoing a procedure.
If you want to see your plastic surgery results before you undergo surgery, we encourage you to schedule your consultation with board-certified plastic surgeon Dr. Mark Chin. Call us today at (559) 435-9646, or fill out our online contact form for additional information.