How Can Massage Therapy Help My Mommy Makeover Recovery?
Posted March 17, 2020 in Mommy Makeover Surgery
2 Minute Read: 
The Mommy Makeover is one of the most invasive plastic surgery procedures as it addresses multiple areas and uses various techniques at once.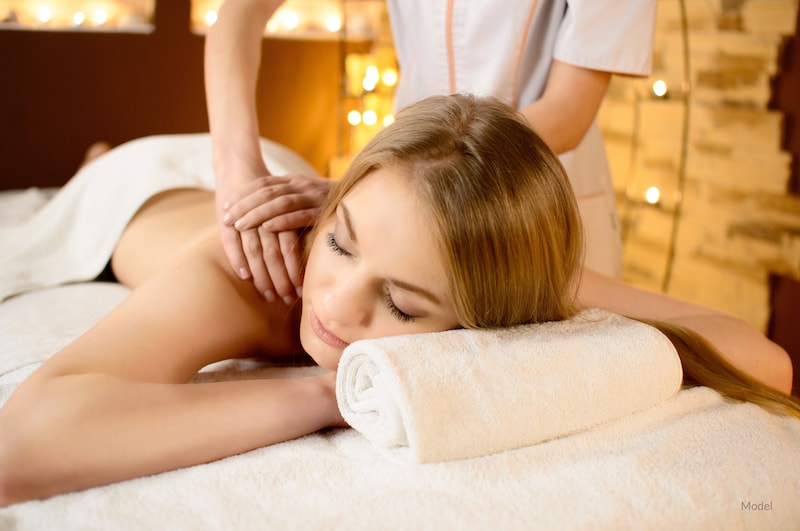 This procedure, which is a combination of breast and body enhancement surgeries—such as breast augmentation surgery, breast lift surgery, tummy tuck surgery, and liposuction techniques—is tailored to you to restore a more svelte physique after having one or more children.  
Your full Mommy Makeover recovery can extend anywhere from a few weeks to a few months. While this period can be uncomfortable, it can be eased with massage therapy.
What Are the Benefits of Massage Therapy? 
Massage therapy, such as the lymphatic drainage massage or the Swedish massage, can benefit you by: 
Reducing stress

Easing pain

Reducing swelling

Promoting relaxation 

Lessening scars 

Shortening the healing process
Why Is Massage Therapy Helpful During My Mommy Makeover Recovery? 
The Mommy Makeover causes bruising, swelling, and scarring. These physical side effects often contribute to emotional ones such as anxiety, stress, and even depression. 
Even though you chose plastic surgery to improve your self-image and self-esteem, it often gets worse before it gets better. This is where massage therapy comes in. 
Massage therapy manipulates the soft tissues of your body, including the muscles, tendons, connective tissues, and ligaments. This manipulation alleviates muscle tension, which not only reduces stress (and, therefore, anxiety and depression) but also reduces pain and breaks up scar tissue.
Lymphatic Drainage Massage
A lymphatic drainage massage helps to eliminate built-up waste in your body after a surgical procedure. This therapy can reduce swelling and stimulate the immune system.
Swedish Massage
The Swedish massage uses long, kneading strokes to reduce tension, relax muscles, and repair tissues. 
Why Should I Consider Easing My Recovery With Massage Therapy? 
Your life is hectic managing your children and other responsibilities. And while it may not initially seem like it, the downtime after your Mommy Makeover is something of a vacation. 
Most often, a Mommy Makeover requires you to take at least two weeks off from work and six weeks off from any strenuous exercise (such as sweating it out at the gym). These recovery weeks provide you with some much-needed time for yourself—time without work, household chores, and taxi-ing your children around to their activities. 
A lymphatic drainage massage can enhance your recovery period while giving you a soothing and relaxing experience. 
Want to Know More About Mommy Makeover Surgery? 
If you would like to know more about the Mommy Makeover surgery in Fresno, California, schedule a consultation with Dr. Chin by calling (559) 435-9646 or by filling out our online contact form.