What Are the Downsides to a Tummy Tuck?
Posted September 15, 2020 in Tummy Tuck Surgery
3 Minute Read: 
A tummy tuck (abdominoplasty) may seem like the ideal procedure to remove stubborn fat from the abdomen. This procedure works to create a thinner midsection and flat stomach by removing excess skin and fat and repairing separated abdominal muscles.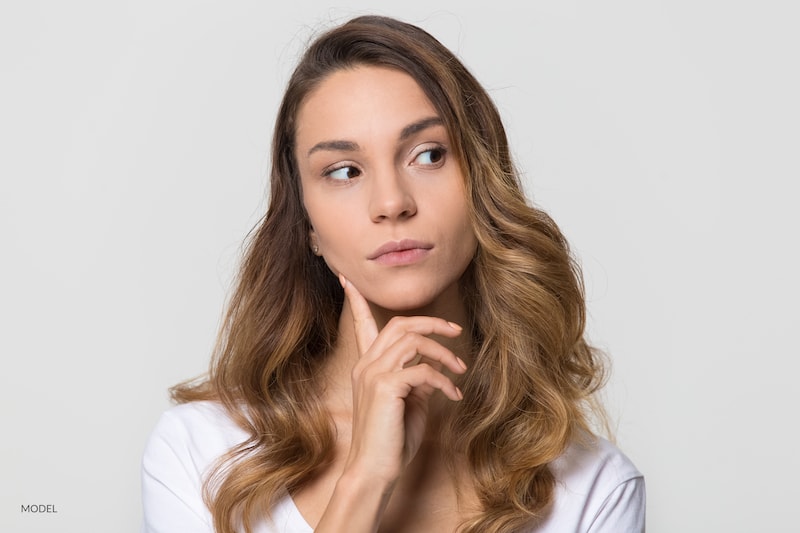 While a tummy tuck can help you achieve your ideal body, there may be some downsides you had not considered or been aware of. 
The Top 5 Downsides to a Tummy Tuck 
1. You Will Have a Lower Abdominal
Scar 
Scarring is inevitable with most plastic surgery procedures. Tummy tuck surgery cannot be adequately performed without leaving a scar across the lower abdomen. Your scar from a tummy tuck may be dark initially and difficult to conceal with makeup. 
While our surgeon will try to place the incision in an easy-to-conceal area where the scar will not show in a bikini, this is not always possible, and you may be left with visible scarring. 
Fortunately, all scars will fade with time, and you can improve the look of the scar with topical creams or silicone scar strips.
2. This Is Not a Weight Loss Alternative 
A tummy tuck is not an alternative for weight loss or a substitute for a healthy lifestyle. With a tummy tuck, a minimal to moderate amount of excess fat is removed. 
A tummy tuck is beneficial for those close to their ideal weight who need a little help removing stubborn fat. If you are looking for a surgery to help you remove a significant amount of fat, tummy tuck surgery is not right for you. 
To remove excess fatty deposits near the abdominal area, you may choose to combine other body contouring procedures, such as liposuction. 
3. Complications Are Possible After a Tummy Tuck
When performed by a board-certified plastic surgeon, such as Dr. Chin, there is little risk for complications during or after a tummy tuck. However, like any plastic surgery procedure, a tummy tuck comes with an inevitable risk of complications, such as bleeding, blood clots, and hematoma. 
While rare, these risks are always present. It is important to be aware of the risks before undergoing surgery to determine if a tummy tuck is still right for you. 
Additional risk factors may be present for those with pre-existing medical conditions. It is critical to discuss all current and previous medical concerns with Dr. Chin during your consultation.
4. Tummy Tuck Surgery Has an Extended Recovery Period 
When you undergo tummy tuck surgery, you are committing to an extended recovery time. Tummy tuck surgery recovery may be difficult for those with children and other important obligations. 
Your recovery from a tummy tuck will require wearing compression garments, going on short walks to promote circulation, and a significant amount of rest. You may experience swelling, bruising, soreness, and fatigue for the first week of recovery, but prescription medication may be taken as needed to help relieve the pain. To recover properly, you will need to avoid strenuous activity for at least six weeks. 
5. Results Can Be Difficult to Maintain Without Proper Care
Tummy tuck surgery results can be long lasting with proper care. To maintain your results from a tummy tuck, you will need to maintain your weight with a healthy lifestyle. Weight fluctuation can reverse your results, and you may need to have your surgery redone. Additionally, pregnancy can reverse the results of a tummy tuck. It is recommended that you wait until you are done having biological children before undergoing surgery. 
Want To Learn More?
If you are interested in learning more about tummy tuck surgery in Fresno, California, schedule a consultation with Dr. Chin by calling 559-435-9646 or filling out our online contact form. A consultation with Dr. Chin can help you determine if tummy tuck surgery is right for you.