Tummy Tuck Replaces Facelift on the Top 5 Most Common Cosmetic Surgeries
Posted September 25, 2018 in Tummy Tuck Surgery
Every year, the American Society of Plastic Surgeons (ASPS) releases records of all the cosmetic procedures performed in the previous year. These records also highlight which procedures are the top five most performed and desired cosmetic surgeries. While some surgeries remain consistent from year to year (breast augmentation, liposuction, and rhinoplasty), others rotate in and out, leading to the question: why are certain procedures more common one year but not the next?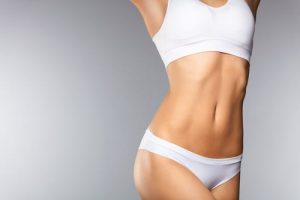 In 2017, tummy tuck surgery snuck its way back into the top five after being vacant from the list in 2016. It replaced the facelift, which witnessed a four percent decrease between 2016 and 2017.
Why Might Facelift Surgery Decline?
While still maintaining strong with over 125,000 performed last year, facelift surgery did see a decrease in the number of procedures performed from the previous years. While there are still plenty of patients who desire facelift surgery, there is now an increase in the number of alternative non-surgical procedures that address the face. Injectables, such as BOTOX® Cosmetic, fillers, and laser treatments, all treat facial aging and can postpone the necessity for more invasive surgery. It should be noted, however, that even though non-surgical procedures may seem desirable in the short-term, they cannot reach the same level of correction as surgery.
Tummy Tuck Surgery Remains Strong
Although tummy tuck surgery jumps on and off the lists for the top five procedures, the number of procedures performed each year remains relatively consistent, seeing only a two percent increase between 2016 and 2017. There were nearly 130,000 tummy tuck procedures performed in 2017, up from the 128,000 completed in 2015 and 2016. These numbers prove that attaining and maintaining a slim, tight, and sculpted core is still as popular as ever. Tummy tuck surgery not only addresses excess fat in the abdominal area but also targets lax abdominal muscles and excess skin. Even though non-surgical procedures that can target unwanted pockets of fat are coming to the forefront, there is so far not a non-surgical option that addresses all three areas: fat, muscles, and skin. Tummy tuck surgery is a one-of-a-kind, all-encompassing procedure designed to provide a contoured, slimmer physique that will certainly boost confidence.
If you are interested in learning more about tummy tuck surgery, contact Dr. Chin at Valley Institute of Plastic Surgery by calling (559) 435-9646 today to set up a consultation.