Keep a Balanced Facial Aesthetic
Posted August 20, 2018 in BOTOX® Cosmetic, Eyelid Surgery, Facelift Surgery
Balance and harmony are words commonly used by plastic surgeons to explain ideal results. Natural-looking results are always the best type because it means that everything is working together to provide improvement. Each cosmetic surgery procedure targets one area. Sometimes, this single area is the sole cause of dissatisfaction; however, that isn't always the case, and multiple regions require attention. Combination procedures are standard in plastic surgery; the act of performing two or more operations at the same time allows for a fuller, more balanced transformation with less recovery time. An example of a combined procedure is a facelift and blepharoplasty or a facelift and BOTOX® Cosmetic.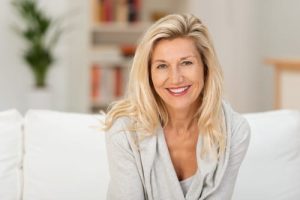 Although facelift surgery may sound like it would address the entire face, it only addresses skin and muscle laxity on the mid and lower face. While facelift surgery can remove years off of your appearance by smoothing deep wrinkles and creases, reducing the size and prominence of jowls and tightening skin on the neck, it does nothing to address aging on the upper face, which is often the area most susceptible to the formation of lines and laxity. Between the skin thinness of the upper face and the constant movement of the eyelids and brows, you may find that your eyes take a beating and could use some correction.
Facelift and Blepharoplasty
If you experience normal facial aging (across your entire face), then a combination procedure may be the ideal solution. By addressing one area of the face without the other, you may find that you are doing more harm than good. This is because of facial balance. Before your surgery, you likely experienced wrinkling and skin laxity on both the upper and lower face. As much as you disliked this skin laxity, it was consistent between both facial regions. However, if you undergo a facelift alone, then you will lose that consistency, and the aging of your eyes may stick out like a sore thumb. Consider combining your facelift surgery with blepharoplasty, a procedure that addresses excess skin and pockets of fat that result in heavy, drooping upper eyelids or puffy bags beneath the eyes. A forehead or brow lift will help rejuvenate the lines in the forehead and heaviness that may be contributing to the upper eyelids.
Facelift and BOTOX® Cosmetic
Some facelift candidates only have a small amount of upper face skin laxity. For those patients, BOTOX® Cosmetic injections may be all that is necessary to keep their faces balanced. BOTOX® Cosmetic lessens the appearance of crow's feet, wrinkling between the eyes, and forehead lines, giving you a refreshed and rejuvenated appearance.
A face that is out of balance is proof of cosmetic enhancement. We want to avoid this tell-tale sign; while others may notice how rejuvenated you look, they shouldn't be able to tell how you achieved it. Thinking about the whole picture is what will result in natural, harmonious, and desirable results.
If you are interested in learning more about the benefits of combining a facelift with either blepharoplasty or BOTOX® Cosmetic, contact Dr. Chin at the Valley Institute of Plastic Surgery today by calling (559) 435-9646 to set up a consultation.