No Pain, All Gain!
Posted August 25, 2015 in Non-Surgical Treatments, UltraShape®
Get Rid of Fat Without Surgery With UltraShape®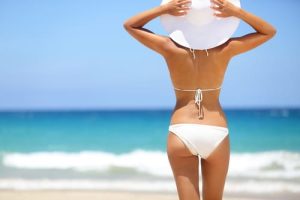 The buildup of fat in our bodies is a normal process that for most of us occurs at unhappy rates. With our bodies betraying us and storing the excess fat we don't want, we listen to media advertisements that suggest that all it takes is a little dieting and exercising to reach our health goals. So we go overboard and cut sugar entirely out of our diets, cut out bread, cut out meat, and even cut out fruit until all that's left to munch on is celery sticks. Then we hit the gym for hours at a time, hoping against hope that the results will be dramatic. Unfortunately, such a lifestyle isn't maintainable, it's not healthy, and frankly, it's too hard. It's impossible to survive on constant exercise and only celery. Sometimes it doesn't matter how hard we try to eat healthy and exercise; we still end up with excess fat that we can't seem to get rid of. However, "no pain, no gain" doesn't have to be your mantra. "No pain, all gain" is the mantra you can have through the use of UltraShape® technology for non-surgical fat removal.
How UltraShape® Works
UltraShape® is an FDA-approved treatment that uses ultrasound waves to permanently rid the body of excess stored fat. Simply put, a device is held up to the skin and projects focused ultrasound pulses through the skin into the fatty areas. The sound waves bounce off the fat cells, destroying the cells and breaking them down into triglycerides. These triglycerides are then sent through the liver and eliminated naturally as toxins. Instead of just shrinking the fat cells, as exercise does, UltraShape® destroys the fat cells, breaks them down, and eliminates them from the body.
Candidates for UltraShape®
UltraShape® is not a weight loss treatment. To be an ideal candidate, you should have realistic expectations and be within at least 10 to 15 pounds of your ideal body weight before undergoing the procedure.
Benefits of UltraShape®
There are countless benefits of this procedure over exercise, dieting, and other surgical techniques, including:
No surgery:

With UltraShape®, you don't have to go under the knife, which means that you don't have to deal with needles, anesthesia, incisions, or scarring.
No discomfort:

UltraShape® is virtually painless.
No downtime:

Only slight redness or bruising may appear temporarily at the treatment site, and patients can return to work or their daily activities immediately after treatment.
Multiple treatment areas:

UltraShape® allows for treatment of multiple areas of the body during the same procedure.
Quick and permanent results:

Results from UltraShape® are usually seen within a few weeks, and the loss of fat cells is permanent.
During your initial consultation, Dr. Mark A. Chin will discuss why you want UltraShape® and evaluate your current health situation, any previous relevant medical history, and any medications or supplements that you are presently taking. With Dr. Chin's help, you can achieve your goals for your ideal physical figure. Contact us today to schedule your consultation. Call us at 559-435-8477 or fill out our online contact form for more information.