How to Maximize Your Facelift Results
Posted March 17, 2023 in Facelift Surgery
4 Minute Read:
There's no question about it: facelift surgery offers women and men transformational facial rejuvenation results that help them look and feel younger than they have in years.
This cosmetic procedure can help increase your confidence like no other procedure can; however, the reality of a facelift is that it does not address all cosmetic concerns. This means that you may want to consider combining your facelift with other surgeries or treatments to improve and balance your facial aesthetic.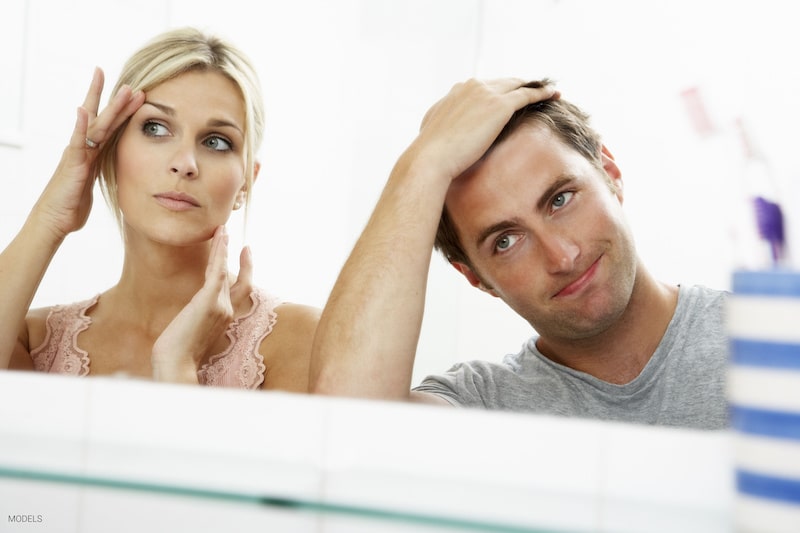 What Can a Facelift Do, and What Can It Not Do?
Facelift surgery is one of the most popular plastic surgery procedures available. And the results speak for themselves; this is why some of your favorite celebrities have opted for facelifts to maintain their red carpet allure.
A facelift is performed on the lower face and mid face (from the cheeks to the neck) and can help combat signs of aging like wrinkles, fine lines, and sagging skin (including jowls). Additionally, since volume loss is a significant aging factor, fat can be grafted into the facial tissues at this time for plumper, more youthful contours (with fat transfer to the face).
However, because facelift surgery only targets correction on the lower two-thirds of the face, it cannot address any cosmetic issues around the eyes and on the forehead. Fortunately, there are many effective procedures that can be performed to achieve improvement here.
What Other Facial Cosmetic Procedures Can You Combine With Your Facelift?
Some of the most common areas on the face to show the wear and tear of age are the eyelids, eyebrows, and forehead. Wrinkles and sagging skin can develop over time and cause you to look much older than you'd like.
Eyelid surgery and brow lift surgery reduce some of these issues. Either (or both) of these procedures can be combined with a facelift to help you achieve dramatic and complete results.
Eyelid surgery (blepharoplasty) addresses cosmetic and functional concerns in both the upper and lower eyelids, including drooping eyelids that make you look angry, tired, or concerned, and can even impair your vision.
A brow lift (also known as a forehead lift) can help to reduce (and even eliminate) sagging eyebrows and skin creases in the forehead to give you smoother skin and a more youthful appearance.
What About the Skin?
Tightening your skin and tissues are only part of battle. Skin blemishes (caused by sun damage, environmental damage, or genetics) are also important areas to target. Unfortunately, tone and texture concerns are not addressed with surgical procedures.

Fortunately, Dr. Chin and his team is proud to offer many top-of-the-line nonsurgical skin treatments through Aspire Medispa at the Valley Institute of Plastic Surgery. From laser resurfacing to injectables to micro-needling, our team can address all of your complexion concerns and restore glowing, healthy skin that lets your facelift truly shine!
What Are the Benefits of Combining Facial Procedures?
As mentioned above, facelift surgery alone will only address the middle and lower portions of the face, while blepharoplasty and/or brow lift surgery only corrects the upper areas of the face.
So, by only choosing one of these procedures, you risk having your face look unbalanced, where one area of the face looks youthful and improved while the other still shows signs of age.
Also, by combining facial procedures, you can minimize the overall cost of your procedures (since you are having them performed at the same time, which means that you will only be paying once for many of the fees, including anesthesia and surgeons fee). Combining procedures can limit your overall recovery and downtime, since you will be able to recover from multiple procedures at the same time (instead of at different times, if you were to have these procedures performed separately).
At your consultation, Dr. Chin will review your medical history and listen to your cosmetic goals to help you decide which procedure(s) will be best to give you the results you desire.
Let 2023 Be the Year of Your Returned Youthful Look!
If you would like to learn more about the benefits of combining eyelid surgery and/or a brow lift to your facelift procedure, then contact Dr. Chin today by calling 559-435-9654 or filling out our online contact form.