Buttock Augmentation
What Is Buttock Augmentation?
Buttock augmentation with fat transfer, also known as the "Brazilian Butt Lift," improves the size and shape of the buttocks. Women with naturally small butts often desire this procedure to add volume and fill out their jeans, skirts, and yoga pants. Those who have a poor buttock shape due to weight fluctuations or aging often request the Brazilian Butt Lift to achieve a more round, curvaceous backside.
In addition to butt augmentation, Dr. Chin also offers additional body surgeries to help patients achieve their ideal look.
The Benefits of Buttock Augmentation With Fat Transfer
Improves body image
Boosts confidence
Clothing fits better, allowing for a wider range of wardrobe choices
Schedule a Consultation With Dr. Chin
Achieved With Buttock Augmentation Surgery
Buttock augmentation with fat transfer uses the patient's natural fat tissue to add volume to the buttocks, which achieves results that look and feel natural. Most people undergo this procedure so that others will notice their attractive curves without knowing they've had anything done.
The purified fat is strategically injected into the buttocks to create a rounder shape and a voluptuous buttock size, so your buttocks look perky and full no matter what you're wearing (or not wearing)!
Some women have the chest to create the top part of the hourglass, but their derrière lacks enough size to fulfill this coveted shape, and their midsection may not be as slender as they'd like. Buttock augmentation with fat transfer removes fat from your love handles, muffin top, abdomen, and waist to create a smaller midsection and uses the fat to add fullness to your bottom to create the hourglass figure you've always wanted.
Buttock augmentation can give you a body about which you can be confident. Most buttock augmentation patients experience an improved self-image, which increases their confidence as well as their overall quality of life.
Buttock Augmentation Procedure
Fat Transfer (Brazilian Butt Lift)
The Brazilian Butt Lift procedure takes about 90 minutes to complete. Liposuction is used to remove excess fat from an area of the body such as the abdomen or flanks. The suctioned fat is then purified to remove excess fluids before being carefully injected into the buttocks. Dr. Chin begins the injections deep in the buttocks and continues layer by layer until he achieves the desired look.
Buttock Augmentation Ideal Candidates
Candidates for buttock augmentation with fat transfer are in overall good health but may be somewhat overweight or have excess fat accumulations. Patients who are too thin may not have enough fat to spare for the procedure. During your consultation, you and Dr. Chin will discuss your expectations for this surgery, your health history, and the procedure process to determine whether the Brazilian Butt Lift is right for you.
Before & After Photos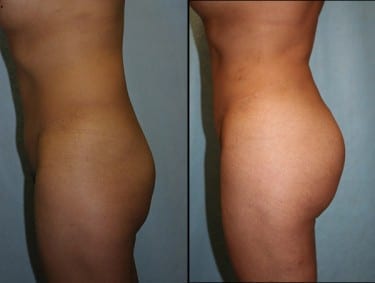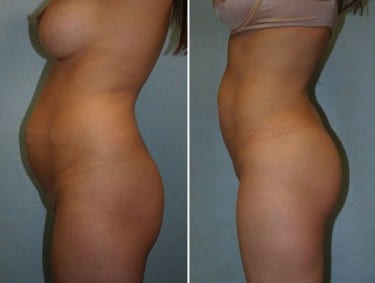 Schedule a Consultation With Dr. Chin