Is Social Media Affecting Rhinoplasty Statistics?
Posted June 13, 2018 in Brow Lift
According to a recent study by JAMA Facial Plastic Surgery, rhinoplasty procedures are increasing due to patients' desire to look better in selfies.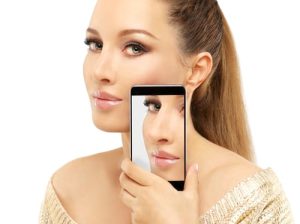 Studies have examined the correlation between social media and the rise in cosmetic procedures such as BOTOX® Cosmetic, dermal fillers, and facial augmentation for the past few years; the numbers provided by these studies prove that the presence of social media has a more significant impact than many may have thought.
What Do Their Studies Say?
According to the 2017 study by the American Academy of Facial Plastic and Reconstructive Surgery (AAFPRS), over 55 percent of facial plastic surgeons saw patients who wanted to look better in selfies—a 13 percent increase from 2016. This statistic means that more than half of facial plastic surgeons performed procedures on patients who desired to enhance their social media image.
This statistic is likely to grow in the future as people spend an increasing amount of time per day on their devices browsing social media platforms that are becoming more and more commonplace. The desire to look our best is not a new phenomenon, but social media has taken it to a new level where people want to be ever-ready for a spontaneous Instagram, Facebook, or Twitter appearance.
What Other Procedures Can Help?
Now that we know that social media presence is a driving force behind the growth of plastic surgery, we can look at exactly what types of procedures can help improve an individual's online presence.
Rhinoplasty
As previously mentioned, rhinoplasty can repair any nasal deformity or nasal insecurity, giving the patient increased confidence in their social media photos. Having been sought after by patients of all ages and backgrounds for years, this procedure has been one of the gold standards of plastic surgery for decades and can provide drastic changes to someone's appearance from the front or side profile view.
Facelift
There is a universal evil that all men and women must face in their lives: age. At some point, everyone will have to deal with sagging, wrinkled, or drooping facial features. In order to combat this, patients can turn to facelift surgery to rejuvenate the face and neck and improve other signs of aging that may appear in their social media photos, which improve the facial definition in many different angles.
Brow Lift
Similar to a facelift, a brow lift works to remove fine lines and wrinkles specifically on and above the brow. No matter what your good angle may be, a good selfie is easily tarnished by a wrinkly forehead or low-hanging eyebrows giving an angry or tired appearance.
To learn more about any of the procedures that can help propel you to Twitter fame, or if you would like to set up a consultation with our office, contact Dr. Chin at the Valley Institute of Plastic Surgery today by calling 559-435-9646.