Giving Back
Posted March 20, 2017 in Infectious Disease, Minor Reconstructive Procedures, Mission Trip, Musculo-skeletal Disorders, Plastic Surgery, Skin Lesions, Stress Injuries, Tumors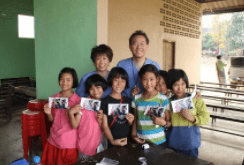 Access to healthcare and healthy living is something that many Americans often take for granted. Dr. Chin believes that it is important to give back to the local and worldwide communities who don't have the privilege of having the same access to healthcare as we do here in the United States. Since the '90s, Dr. Chin has been volunteering first, as a plastic surgery resident, impacting lives in Guatemala and Chile. Over the past ten years, Dr. Chin has also travelled to Southeast Asia 6 times.
Where Do You Go?
Sadly, there is no shortage of countries and townships that can benefit from the knowledge and kindness of professionals like Dr. Chin. He and his church, First Chinese Baptist Church, have focused their attention on traveling to Thailand, Laos, and Myanmar.
What Is Done On a Mission Trip?
Various medical procedures are performed on people living in rural areas who have possibly never had access to this level of care in their lives. Dr. Chin focuses on performing physical exams and minor surgery to help diagnose and treat common ailments. He often treats infectious diseases, repetitive stress injuries, musculo-skeletal disorders, skin lesions, and tumors. Some minor reconstructive procedures are performed using local anesthesia, such as treating webbed fingers, removing fatty tumors, and large cysts. 
A number of problems can be encountered on a mission trip. Check out Dr. Chin's most recent trip to Southeast Asia, covered by ABC30 News.
What Is Your Goal on a Mission Trip?
The goals of the mission trips are to reach others spiritually and physically as well as to enhance their mental well-being. We want the people we reach to know that others care and that they are not alone. We would like to improve the patient's quality of life by reducing the pain and suffering from their ailments and physical conditions. Doctors from various medical fields come together to provide care for these people.
Medical doctors treat diseases of the body with prescription medication and vitamins, inject steroids, and they perform minor surgeries.

Dentists and hygienists remove painfully decayed teeth, restore function, and improve dental hygiene by decreasing calculus plaque formation while teaching dental care and distributing toothbrushes.   

Pharmacists coordinate and distribute medications.  

Optometrists and their teams determine refraction errors and grind lenses with matched frames to give sight with newly assembled glasses.
Dr. Chin's Reason for Giving
"I wanted to help those individuals who don't have access to medical care. There are many medical services available in the U.S., but overseas, there are many areas of under-served populations that do not have access to medical, dental, or optometry services. I am fortunate to be a member of a local church, First Chinese Baptist Church, that has many healthcare professionals as members who have banded together to serve since 2004. I feel honored to participate with the team and travel to distant locations in order to provide health care services to those in need."
For more information on Dr. Chin's mission trips, you can visit his website. He is a board-certified plastic surgeon in Fresno, CA. As a face, breast, and body surgeon, he has transformed the lives of people within his community. You can read more about his practice here.
If you would like to schedule a consultation with Dr. Chin, call our office at (559) 435-9646 or contact us online.