Breast Implant Revision FAQ
Posted April 28, 2015 in Uncategorized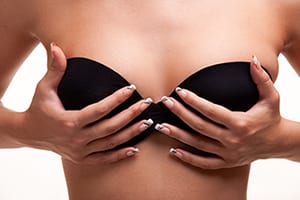 While the risks associated with breast augmentation are not overwhelming, breast implant revision is a commonly performed cosmetic surgery. Breast revision may be needed to correct a complication, but the primary reason women choose the procedure is because they desire a different size or style of implant.
The following are the most frequently asked questions about breast implant revision at Dr. Chin's practice:
Do I have to replace my implants after ten years?
It's a common misunderstanding that you must get your implants replaced after ten years. Ten is simply the average number of years after primary breast augmentation that implant exchange is performed. By this time, the woman may be dissatisfied with the size or shape she originally chose, her breasts may have changed, or perhaps a complication has developed. Most surgeons agree that if there are no problems with the implants and the patient is still satisfied with her breast appearance, there is no need for revision surgery after ten years.
Will I have excess skin if I choose a smaller implant for breast revision?
You may have excess skin or the implants may not look right if you choose a smaller size implant for your secondary breast surgery. This depends on how much smaller your new implants are compared to the size of the breast pocket. Dr. Chin often sees great-looking results when revision surgery with smaller implants is paired with a breast lift, as the breast lift will ensure there is no drooping of the breast or sagging skin.
Can I receive shaped implants after having round implants?
A pocket of scar tissue develops around the implant after breast augmentation. If a teardrop shaped implant is chosen to replace round implants, it may not adequately fill the original breast pocket. Dr. Chin can assess your unique circumstances to help determine if anatomical implants will be an option for you.
Does breast implant exchange require two separate surgeries?
Most of the time, implants can be removed and replaced during one procedure. Two separate procedures may be necessary to correct complications caused by infection or if a significant amount of aesthetic correction is necessary. If two procedures are needed, Dr. Chin will remove the implants during the first procedure. The patient is then given time to heal before Dr. Chin inserts new implants during the second procedure.
What happens if I remove my implants and don't replace them?
Depending on how large your implants were, you may experience sagging or deflated-looking breasts if you choose to remove your implants without replacing them. A breast lift with implant removal is effective for patients who no longer want their implants but desire to have a youthful breast shape.
If you are interested in breast revision surgery in Fresno, CA, please schedule a consultation with board-certified plastic surgeon Dr. Mark Chin by calling (559) 435-9496 today. For your convenience, you may also fill out our online contact form.